Today was indeed an exciting day.
First. I went with Samantha to get her highlights. We waited like TWO freaking hours. I just read, hahah. but it wasnt that bad. then we went back to her house, and she pushed me into the chile and marked my face with permanent marker. yeah i know mean girl! hahaha jk, it was all in good fun.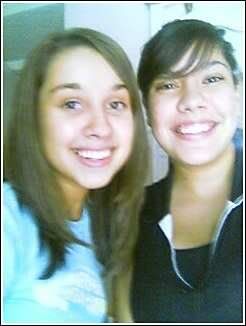 look at them highlights guys! and yes shes single, hit it up! hahaha.
So then I got TWO chicks(baby chickens)! aww haha. I named them Norman and Philbert. But they dont look like the ones on the cartoons, like yellow and tiny. They are pretty small, but like brown and black and white. I know, Ill post pictures later. Anyways, I have no idea what to do with them when they are fully grown, so if anyone is intrested in buying a full grown chicken, feel free to get it from me.
Anyways, the only downside to these little chick-a-dees is. they chirp all the damn time. and they poop every 5 minutes. Oh samantha knows. haha, as soon as we were leaving they pooped and it went through the box and got all over her! she just ran out of the car screaming to the workers it had pooped on her! hahaha. but its ok, because she is the NINA and she needs to get used to it! yes thats right, the one and only samantha came up with the names, so she is legally the nina. hahaha
but when the chicks are asleep, they are quiet and adorable. they sleep right next to each other. to cute. i dont even know if they are guys? hahaha. but my niece and nephew have spent all this time with them already since I got home. they love them. hahaha
oh yeah, and then I got into my first car accident I think. no big deal though. but my poor chicks where in the car! hahaha. traumatized already! but the stupid girl pissed me off bad she was all laughing and then crying? ok? hahaha.
that place had a lot of animals, hopefully ill have two hamsters for my birthday from my bestest friends!! =D
Anyways, enough boring you. What an eventful day. Its amazing how those two things have made me smile so much. I thought i was gonna cry with joy when we got there. hahaha. and anyone feel free to come see them, i love visitors, so do they! hahaha.
alright bye everyone!